State Tax Credit Programs-EITC, NAP: How Can Your Clients Give Back & Benefit Financially At The Same Time
Date:
Tuesday, February 7, 2023
Location:
Media's Towne House, Media, PA
Speaker:
Donna Urian, CPA-Fischer, Cunnane; Michael Shorr, Dept. of Community & Economic Development; Robert Dumont, local business owner
Generously sponsored by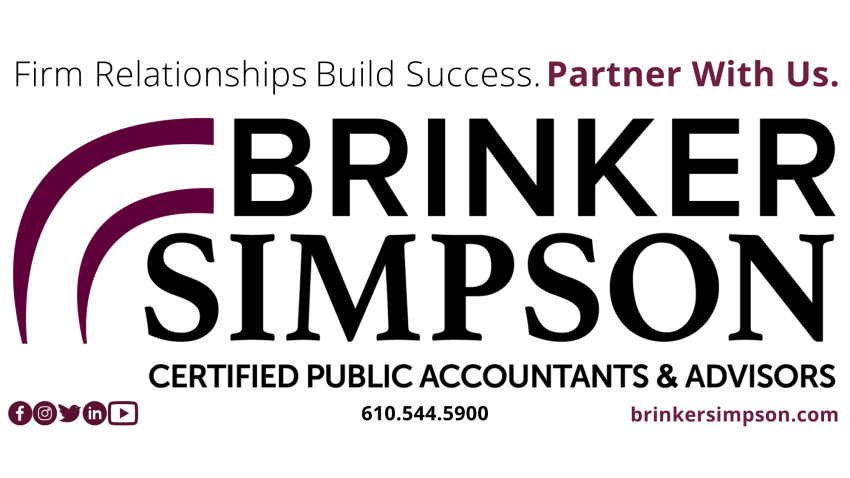 TIME: 5:00 to 5:45 p.m. Registration and Cash Bar
5:45 to 6:15 p.m. Dinner
6:15 to 7:15 p.m. CLE Seminar/Program
February 7, 2023-State Tax Credit Programs-EITC, NAP: How Can Your Clients Give Back & Benefit Financially at The Same Time
The focus will be on "Special Purpose Entities" allowing many PA taxpayers, including individuals, to receive PA tax credits for charitable contributions. Participants will learn the intricacies of the Commonwealth's Education Income Tax Credit (EITC) program from experienced accountant Donna Urian of Fischer Cunnane, and two other tax credit programs, Neighborhood Assistance Program and the Waterfront Tax Credit Program from Michael Shorr of the Pennsylvania Department of Community and Economic Development. Local business owner Robert Dumont will speak about his own experience using EITC and NAP tax credits in his involvement at Business Leadership Organized for Catholic Schools (BLOCS) and a member of the development committees at Cardinal O'Hara High School and The Foundation for Delaware County.
PRESENTERS:
Donna L. Urian, CPA, MST is a shareholder and Director of Taxation at the Fischer Cunnane accounting firm in West Chester, PA . As a shareholder and the Director of Taxes, Donna provides tax-efficient strategies and resolves complex tax situations for individuals, CFOs, corporate tax managers, business owners and executives in publicly traded and privately held companies. Donna sees her team's role as evaluating the entire spectrum of a client's activities and exploring multiple ways to minimize tax liability and remain in compliance. She often works in conjunction with a client's team of professional advisors including the attorney, insurance advisor, bank lender and wealth management advisor to make recommendations that make the most sense for a client's full range of objectives. She received her B.S. in Taxation and an M.S, in Accounting from Widener University.
Michael Shorr is the Regional Director of the Department of Community & Economic Development (DCEC). Mike has worked for the Commonwealth of Pennsylvania for eight years at DCED. As Regional Director Mike oversees DCED activities in the City of Philadelphia, Bucks, Chester, Delaware, Lancaster and Montgomery Counties. Mike works with a diverse group of stakeholders, including non-profits, businesses, and municipalities on utilizing public funding options to promote economic development and create healthy and sustainable communities across Southeast PA. Previous to his current role Mike served as the Deputy Director in the Southeast region and as Executive Assistant to the Secretary. Mike serves on the Board for the Delaware Valley Regional Planning Commission.
Robert Dumont is retired CFO from Xactus which is a leading mortgage data and service provider. During his career, Bob was responsible for directing the mergers and acquisitions activity, financial reporting and compliance programs of the business. Bob's previous professional experience began a career in public accounting with a regional accounting firm for 5 years, then KPMG for 4 years before leaving to manage his own CPA practice. In addition to current business responsibilities, he serves on the board of Cardinal O'Hara High School and as an advisory board member for The Foundation for Delaware County.